Faults
The Engine Faults feature displays any faults detected by the telematics device in a given vehicle for the selected date range. You can choose to run the report by vehicle, which shows all engine faults for the selected vehicle(s), by diagnostic, which shows all vehicles that recorded that fault, or by a combination of the two.
To run the report:
Open the

Options

menu at the top of the Engine Faults page.

Select the date range you wish to view.

Include or exclude archived data using the

Include archived data

toggle.

Select your desired vehicle(s) and/or your desired fault(s).

Select the source and protocol.

Include or exclude dismissed faults using the

Include dismissed faults

toggle.

Click

Apply changes

.
The application displays a table that shows information about the faults for each vehicle. Selecting a fault from the list displays the date and time that the fault occurred. If the fault occurred more than once in the selected date range, the date and time for each instance will be shown. Open the Columns dropdown list to select which information to display on the table.
To download the report as a PDF or Microsoft Excel spreadsheet, select Report from the top menu and choose the appropriate option.
Note: The Engine Faults feature offers the option to dismiss selected faults in the top menu. Dismissing faults clears them from the application only; it does not clear them from the vehicle. You can view dismissed faults by enabling the feature in the Options menu at the top of the page.
Measurements
The Engine Measurements feature displays key graphical information about engine events. You can view engine measurements by selecting Engine & Maintenance > Engine and Device… > Measurements.
Use the Options dialog to set diagnostic, vehicle, and date filters for your data. The filtered measurements will be displayed as a list.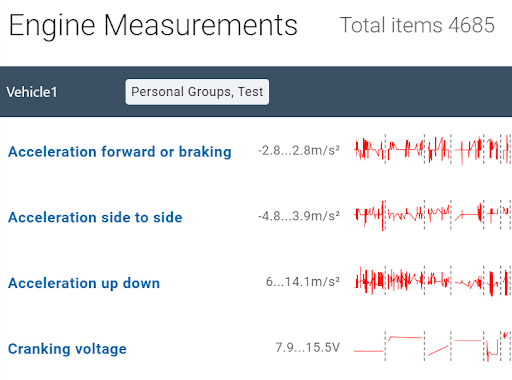 Selecting a row from the list displays all instances of that measurement, including the date and time when they were recorded. Selecting the red sparkline graphic will take you to the Engine Data Profile graph for the selected measurement.
Tip: Selecting multiple diagnostic types from the Options dialog on the Engine Data Profile page will overlay all selected measurements on the graph.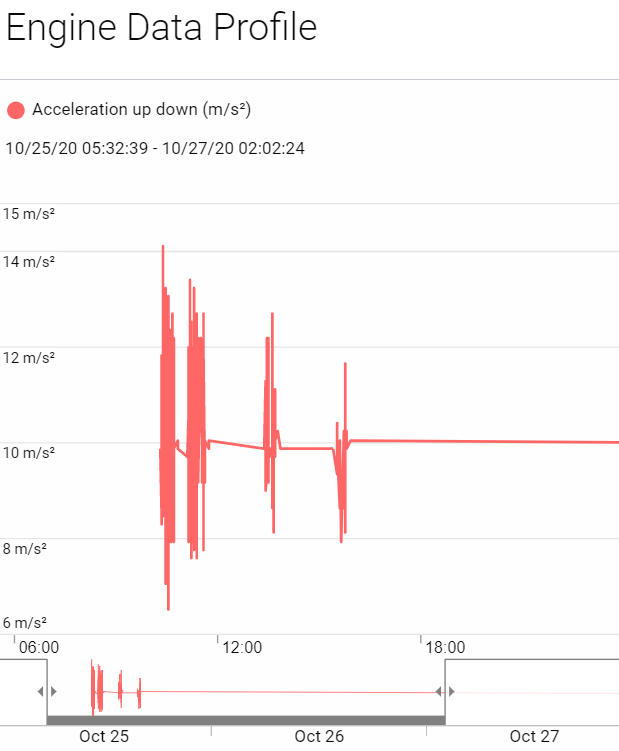 Diagnostics
The Diagnostics feature is a reference tool for diagnostic engine information. Selecting a diagnostic source from the Choose source filter dropdown menu will display all diagnostics associated with that source.
To learn more about a diagnostic, select it from the list to open the Diagnostic View page. This lists a short description of the diagnostic, as well as its source, code, type, controller type, and unit of measurement (if applicable.)