Speed Profile
Navigate to the speed graph by selecting Activity > Speed Profile from the main menu. The Speed Profile page can also be accessed from the More trip options menu (found to the right of each trip) on the Trips History page.
After selecting the appropriate vehicle and date range, click Apply changes to view the graph. The blue line of the graph shows the speed of the vehicle; the red line shows the known speed limit for the area; and the yellow line shows an estimated speed limit in the absence of a known speed limit.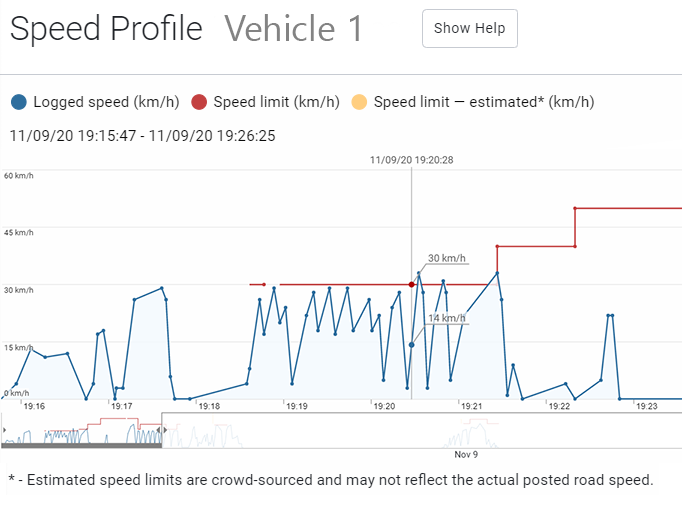 Speed Limit Data Providers
This allows street level accurate notifications to be sent when a driver exceeds local speed limits. Posted speed limit data comes from OSM Maps.
Road Speed Data Availability
The application supports posted road speed data in the following countries:
North America

: USA, Canada, Mexico

Oceania

: Australia, New Zealand

Asia

: Brunei, China, Indonesia, Japan, Kazakhstan, Kyrgyzstan, Malaysia, Philippines, Singapore, South Korea, Taiwan, Thailand, Uzbekistan, Vietnam

Europe

: Albania, Andorra, Austria, Azerbaijan, Azores, Belarus, Belgium, Bosnia and Herzegovina, Bulgaria, Crimea, Croatia, Cyprus, Czech Republic, Denmark, England, Estonia, Faroe Islands, Finland, France, Georgia, Germany, Greece, Hungary, Iceland, Ireland, Northern Ireland, Isle of Man, Italy, Kosovo, Latvia, Liechtenstein, Lithuania, Luxembourg, Macedonia, Malta, Moldova, Monaco, Montenegro, Netherlands, Norway, Poland, Portugal, Romania, Russia, Scotland, Serbia, Slovakia, Slovenia, Spain, Sweden, Switzerland, Turkey, Ukraine, Wales

Caribbean

: Bahamas, Barbados, Cuba, Dominican Republic, Jamaica, Puerto Rico, Saint Kitts and Nevis, Saint Vincent and the Grenadines, Trinidad and Tobago

Central America:

Belize, Costa Rica, El Salvador, Guatemala, Honduras, Nicaragua, Panama

South America

: Argentina, Bolivia, Brazil, Chile, Colombia, Ecuador, French Guiana, Guyana, Paraguay, Peru, Suriname, Uruguay, Venezuela

Africa:

Botswana, Cameroon, Democratic Republic of the Congo, Gabon, Gambia, Ghana, Guinea, Ivory Coast, Kenya, Madagascar, Malawi, Mali, Mozambique, Namibia, Nigeria, Sierra Leone, South Africa, Tanzania, Uganda, Zambia, Zimbabwe

Middle East:

Bahrain, Gaza Strip, Iraq, Israel, Jordan, Kuwait, Lebanon, Oman, Palestine, Qatar, Saudi Arabia, Syria, United Arab Emirates, Yemen
Posted road speeds can change frequently and may contain inaccuracies. You can update the posted road speed of any road by left-clicking on a road from the live Map and selecting Update posted road speed from the popup window.
Any updates or changes to the posted road speed are shared with all customers. In this way, everyone benefits from each other's changes. On a periodic basis, the latest posted road speeds are sent to OSM, where they are made available to everyone on the Internet.
Note: Due to the possible inaccuracies caused by road construction or other hazards, we recommend that posted speed limits be used as part of a larger safety strategy.