To order a product, please visit this article: Product Ordering
Introduction
This article will assist you in successful installation and validation of telematics devices using the CalAmp LMU-3030 according to the configurations designed by Utilimarc Telematics. The part number for this device may be "LMU30H30" or "LMU3030LABL" depending on the network.
Note: LMU-3030s are not recommended for use on Electric Vehicles. Please reach out to support@utilimarc.com with any questions or concerns.
Kits using this device contain a subset of the parts pictured below: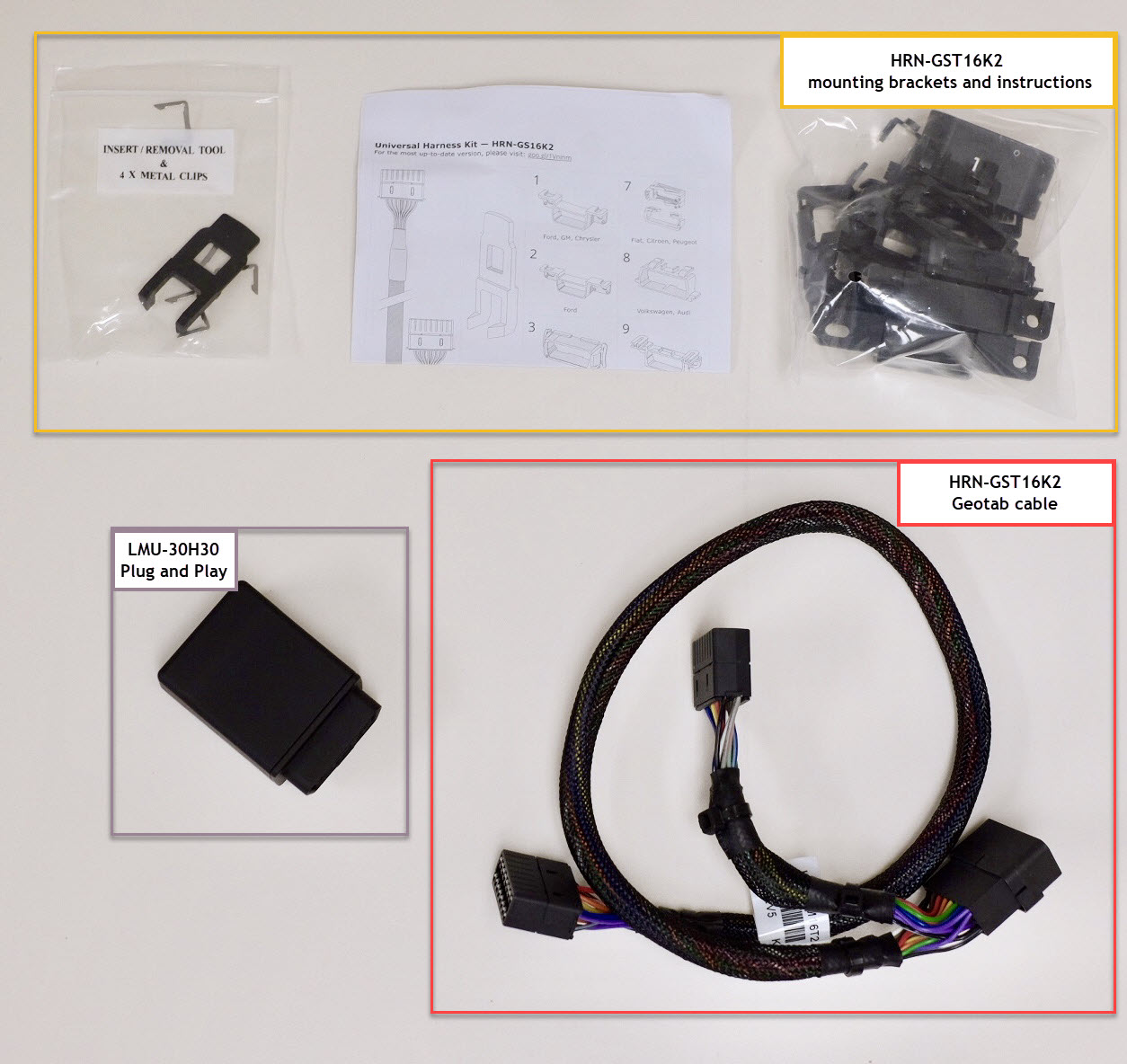 Step 1: Record Vehicle / Equipment Information
If the unit data is not already associated with the device, the first step of the installation is to record the following information prior to plugging the telematics device into the vehicle:
Unit number

VIN Number or other Serial Identifier

IMEI/MEID/ESN Number located on the back of the device

Current vehicle odometer reading, if applicable

Current vehicle engine hours, if available
The vehicle data should be recorded on our online fillable form.
Please fill out required fields (Company Name, Unit ID, ESN located on the back of the CalAmp device, VIN, Odometer Reading) and submit the form. You will receive an emailed summary of the action taken from support@utilimarc.com once it is complete.
More information for the fillable form can be found here.
Step 2: Plan the Installation
Device Placement: This device is designed for easy installation. Find the OBDII connector of your vehicle and plug your device into the port. In general, the OBDII connector is located to the left of the steering wheel underneath the the instrument panel (see picture below #2). In some cases, the OBDII connector is located behind a protective panel that may have to be opened. In this case, the HRN-GST16K2 Geotab cable can be used to extend the OBDII port so the telematics device can be put in a more desirable location. Common areas where the OBDII connector is found can be seen below: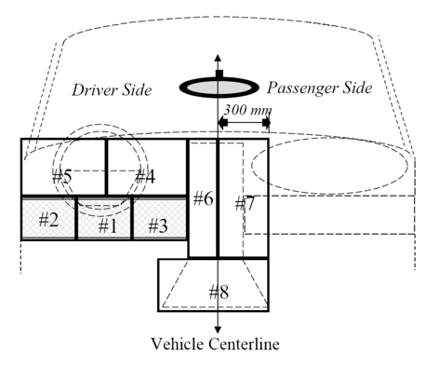 It is critical to note that there SHOULD NOT be any other device on the the OBDII connector along with the LMU30H30. Having another device on the OBDII connector along with the LMU30H30 will cause the telematics device to malfunction.
Step 3: Device Installation
With the vehicle engine on, plug the LMU30H30 into the OBDII connector and let the vehicle idle for at least one minute. Make sure the device is secure in the OBDII port. If the device is loose it can be secured with a zip-tie. Once the vehicle has idled, the LED lights on the LMU30H30 should be checked according to the table below: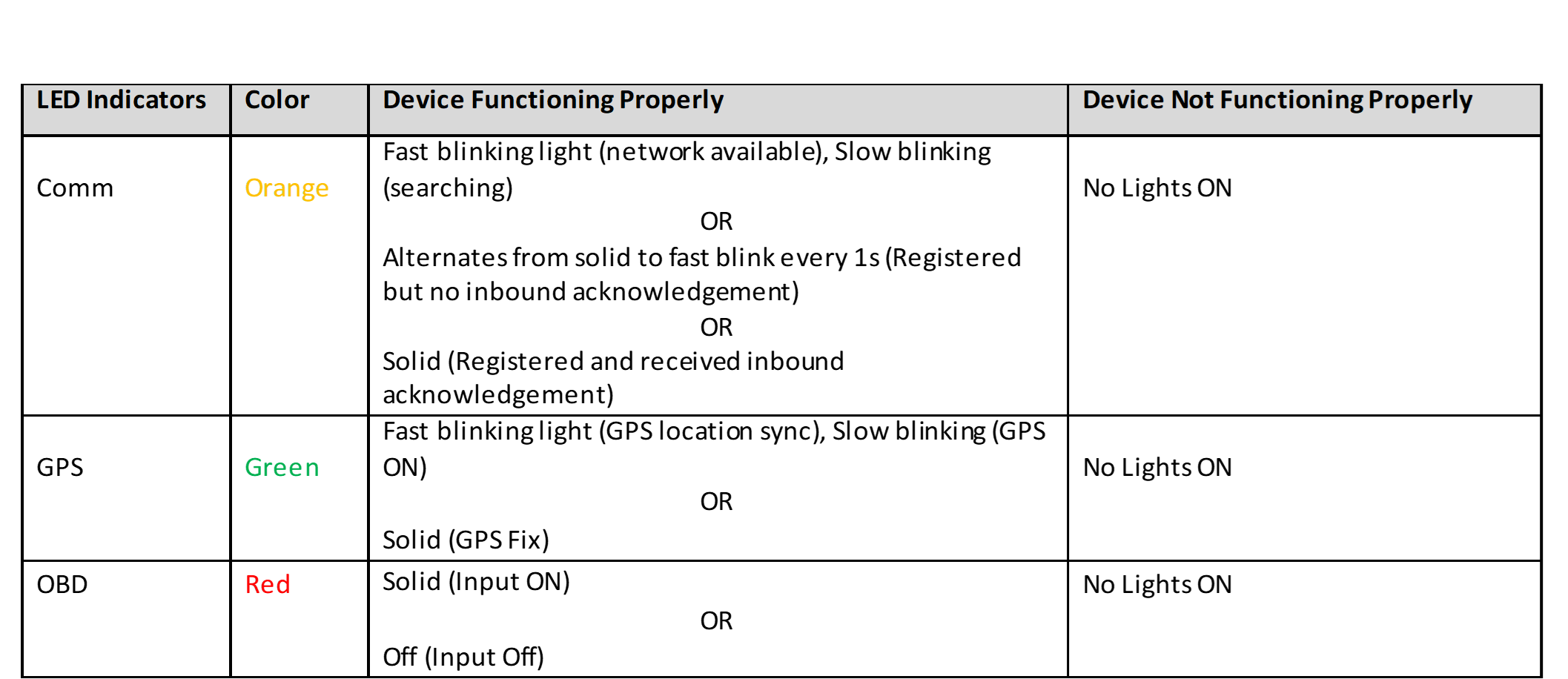 On a properly functioning install, the device should have red, orange and green lights solid. This means that the device is sending data to our servers. If no lights appear make sure that there is 14V going to the OBDII connector, unplug the device and plug it back in. If there are still no LED lights on please contact support. After LED lights have been checked, proceed to the data validation step.
Step 4: Data Validation